"It was almost as if she was on it saying, 'I got this one, Mom — keep going.''
Nobody had ever called Nellie brave before. Until a few weeks ago, the adjectives fearful, protective, shy or cautious were most commonly used to describe the homeless pit bull.
But that all changed when 5-year-old Nellie got between her foster mom, Jane Taylor, and a rattlesnake while on a hike in a Texas state park. 
When Nellie was a year old, rescuers with Final Frontier Rescue Project, a small volunteer-based organization in Texas, pulled her from a California shelter. She then bounced from kennel to kennel for years, before meeting Taylor six months ago. 
"Nellie came to me a little bit chubby, which made her super cute," Taylor told The Dodo. "We called her our little potato sack. But it wasn't her true form, so we started doing runs together and now she's a 45-pound pocket pittie."
When she first arrived at her temporary home, Nellie was scared of loud noises, new people and unfamiliar animals. She was protective of her toys and reluctant when it came to people touching her. But under the influence of her foster mom, Nellie began to warm up to her new life.
Then, one sunny day in March, Nellie showed just how much she's grown.
"We went hiking up to this big rock dome … and on our way back to the car from the hike, we were traversing an area that isn't normally passed," Taylor said. "I didn't even see the snake, I heard it first and stopped and started screaming."
"She ran from behind me before I could even step away or turn around or anything — and she was on top of the snake," Taylor added. "When Nellie ran over, it was almost as if she was on it saying, 'I got this one, Mom — keep going,'" Taylor added.
The tussle didn't last long before Nellie got bit on the face. A friend along on the hike threw his jacket over the snake and dragged the writhing animal away from the injured dog.
Nellie wasn't moving and refused to walk, so Taylor and her friend picked up the dog and carried her down the mountain.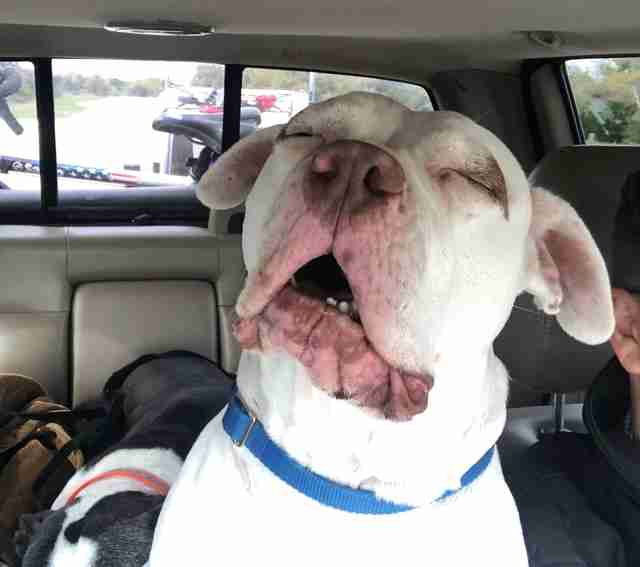 "When we got her in the car her eyes were closed, her head was tilted back and her mouth was open," Taylor said. "She wasn't 'awooing' in pain, but you could tell she was unhappy."
"I knew that I had to get her to the vet as quickly as possible," Taylor added.
Nellie was treated with two vials of antivenom and antibiotics for the bite wound, and was put on bed rest. And thanks to the quick actions of everyone involved, the brave dog is healing quickly.
"She's such a resilient pup," Taylor said. "Two days later she was chasing squirrels again."
Now that Nellie is on the road to recovery, she's finally ready to take the next step and find a forever home.
Taylor will soon be moving to Hawaii to take care of her elderly parents, and Nellie needs a more controlled environment to feel safe.
"She's been decompressing and is finally understanding how fun life can be," Taylor said. "Whenever we have visitors over at the house she just goes bonkers. When dogs come over, she's realizing that it's playtime. She has tons of toys so she's not so possessive anymore."
"She's super cute and just wants to make you happy," Taylor added. "She's always checking in with you."
Taylor will always be grateful to Nellie for her act of bravery — and knows Nellie could have a bright future if someone would give her a chance. 
"Everyone's first thought is, 'Nellie was protecting you,'" Taylor said. "And she very well could have, because she really stands to attention if there's something or someone she doesn't like on her walks."
"It's really special to think that she would do that for me," she added.
One chilly winter morning, a man on his way to work stumbled across six little animals in desperate need of help.
The nearly hairless puppies huddled together in the woods — far too young to be away from their mother. Their skin was so pink and chapped they hardly looked like dogs at all. The Good Samaritan brought the puppies to a nearby shelter in Sylacauga, Alabama, where staffers were shocked by the mistreatment the young dogs had experienced.
"They were so smelly that the shelter staff had to wear masks in order to bathe them," Nicole Zaguroli with Second City Canine Rescue (SCCR), a nonprofit rescue in Illinois, told The Dodo. "They were in very bad condition; they had scabies, they were malnourished and cold."
The dogs' lack of fur made identifying their breed nearly impossible — but staffers believed that since they weighed in at only 5 pounds, the pups belonged to a smaller breed.
"The staff thought they were cocker spaniel mixes based on their appearance when they came into the shelter's care," Zaguroli said.
Jacquie Cobb, president of SCCR, saw a Facebook post from the shelter pleading for help with the puppies' extensive medical care and knew she had to do something. Cobb brought the puppies to Auburn Veterinary College, where they were being treated for scabies, and then placed them in foster homes.
"Two homes stepped up and agreed to split the puppies between them," Zaguroli said. "The puppies required significant care to meet their medical needs, so our foster homes truly were their angels!"
With medicated baths and proper meals, the resilient dogs' health improved. Slowly, white curly fur began to cover their bodies — but there was still the question of what breed to list on their online adoption posting.
"We made a best guess of Great Pyrenees/poodle mixes because the little amount of hair they did have was so curly," Zaguroli said.
It became pretty clear, as the puppies started to put on weight rapidly, that they are in fact the opposite of what their rescuers assumed, Zaguroli noted: "One of our adopters did a DNA test and shared the results with us today and they are 100-percent Great Pyrenees!"
A post shared by Bear (@bear_the_greatpyr)
In just a few months, the puppies have transformed into healthy, active dogs. View this post on Instagram
A post shared by Bear (@bear_the_greatpyr)
Soon, it will be difficult for their families to imagine that the over 100-pound pups could ever have been so small.